Car Accident Treatment and Care
If you've recently been involved in a car accident, it's crucial to get medical attention right away. While emergency rooms are designed for life-threatening injuries, not all post-accident concerns fall under that category. That's where a specialized Car Accident Doctor comes into play. With multiple locations across Atlanta, we focus on diagnosing and treating injuries that are commonly overlooked following an auto collision.

You may not be aware, but even minor car accidents can result in injuries like soft tissue damage, musculoskeletal issues, and whiplash. These types of injuries might not show symptoms immediately, but if left untreated, can develop into chronic pain or long-lasting complications. Car accident injuries can take days, weeks, or even months to reveal their painful consequences.

As experienced Car Accident Chiropractors, we provide a thorough examination to identify any hidden injuries you may have sustained. We then craft a customized treatment plan to address these issues head-on, helping you avoid the pitfalls of untreated injuries. Our services are not only less invasive but also more cost-effective than many traditional medical options. Don't let untreated injuries disrupt your life—contact 1800-Hurt-911 for a consultation today.
Auto Accident Attorneys in Atlanta, GA
According to the National Highway Traffic and Safety Administration (NHTSA), Atlanta roadways are among the most dangerous in the United States.
Georgia ranks 14th in the country for deadliest roads. Driving in Georgia is one of the most dangerous activities we engage in and 1 in 70 Georgians will have a car accident each day.
With six major interstate highways, heavily traveled roads and growing urban centers, there is no reason to question why the south is home to more car accidents that any other region.
In 2019 there were over 1000 fatalities on Georgia's roadways and daily more than 1,720 drivers are involved in Georgia car accidents.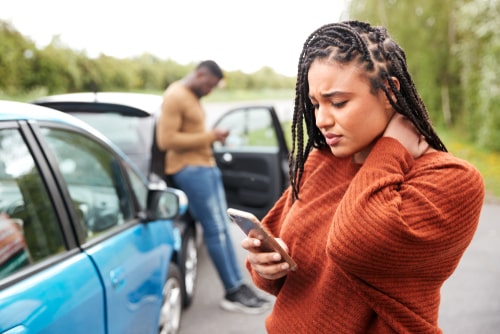 With the high occurrences of traffic accidents across Georgia, if you should find yourself in a car accident, call us for a free consultation so we can help you get the settlement you deserve.
Never speak with the other driver's insurance, because you just may give then an upper hand during negotiations or a potential lawsuit.
It is important that your damages and injuries are fully assessed by an attorney if you are involved in a car accident.
Car accidents can happen to even the most careful drivers. While there is not much you can do to prevent an accident that's not your fault, you can seek damages.
If you were injured in an accident that wasn't your fault, and are thinking to handle your own personal injury claim, think again!
Hiring an Car Accident Attorney in Atlanta After a Car Accident is the Right Thing To Do
The process of establishing negligence and obtaining damages is not as straightforward as it may seem. There are a number of factors involved.
Once you file a lawsuit, the insurance company and the defendant's legal team will keep a careful watch on every move of yours. Even a seemingly innocuous mistake can hurt your case.
An experienced and skilled car accident lawyer in Atlanta knows every trick that insurance companies use to deny or downplay claims.
Your car accident attorney in Atlanta will help you communicate effectively with the insurance company. The professional will come up with a plan to maximize compensation.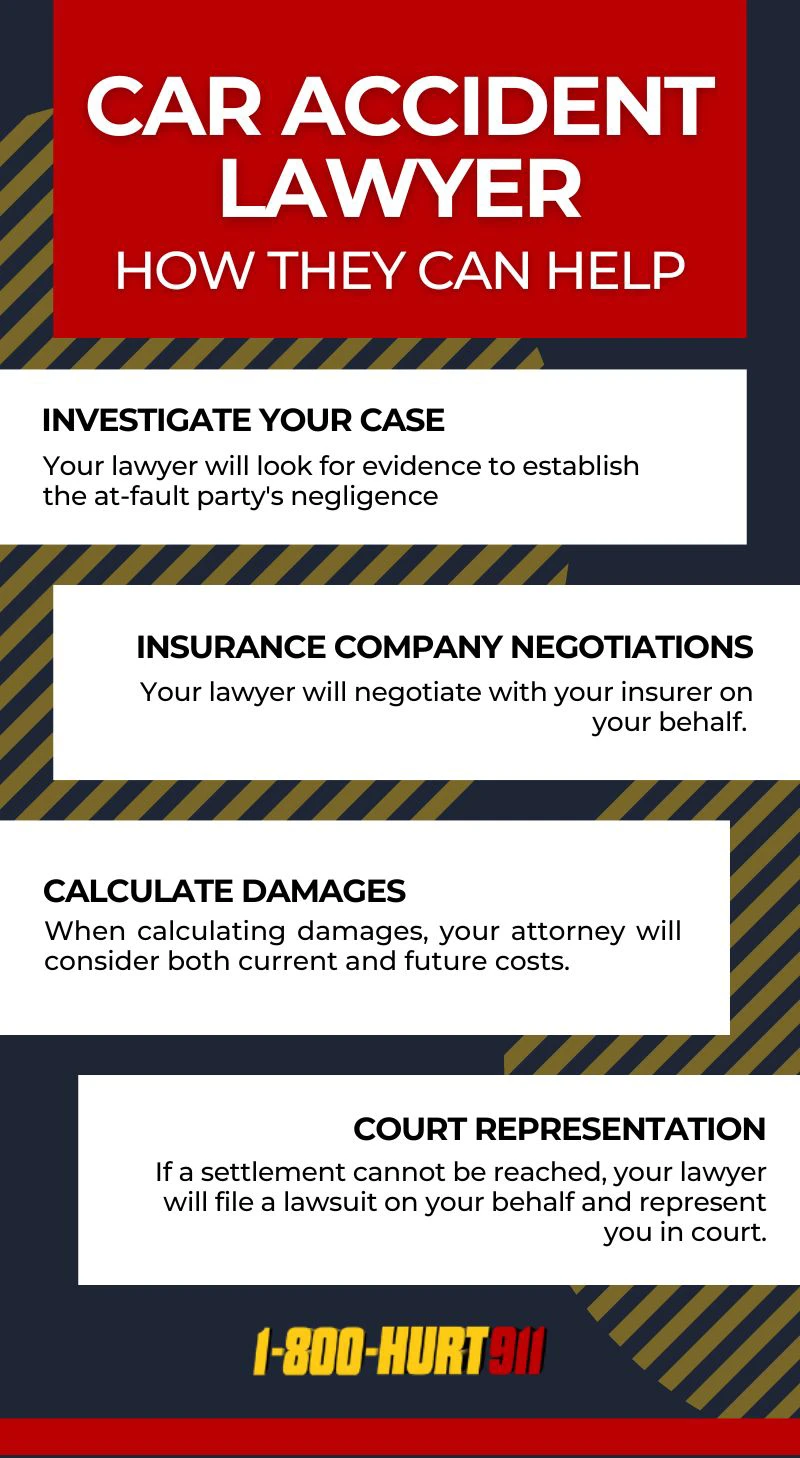 How Can A Car Accident Lawyer Help?
A reputable car accident attorney has their clients' best interests at heart. Your lawyer will guide you through the injury claims process. They will ensure that you abide by deadlines.
Here are some ways a car accident attorney can help you:
You need evidence to establish negligence in a personal injury case. Your personal injury lawyer will investigate your case. The professional will:
Talk to eyewitnesses and record their statement
Obtain dash cam footage and CCTV recordings from intersections and traffic signals
Visit the accident scene to take pictures
Look over police reports for details
Analyze your medical records
Research your and the other driver's driving record
Preserve the evidence. The professional may create a backup such as a jump or flash drive. They may store physical evidence in a safe location where it cannot be accidentally or deliberately altered or tampered
Negligence in a personal injury lawsuit can only be established if the plaintiff's lawyer is able to prove beyond a reasonable doubt that:
A.)The party-at-fault had a duty,
B.)The negligent party breached their duty towards the plaintiff
C.)The defendant's actions were the cause of the plaintiff's injury
An experienced personal injury lawyer knows this. They try to collect as much information about the accident as possible.
Your car accident lawyer will look for ways to prove the party at fault's negligence.
Negotiating With the Insurance Company
Insurance companies often try to downplay or reject claims. Your insurance company can use tactics such as:
Offering you a lump sum amount (much less than the actual compensation value of your claim) upfront
Contacting you after the accident to get vital information that can influence the outcome of your case
Denying your initial insurance claim
Never speak to an insurance agent without consulting your personal injury attorney. Do not give recorded statements as they can be used to weaken your case. 
Discuss details related to your accident and injury only with your attorney and personal injury doctor.
Your lawyer will know what to do if your insurance company denies your claim. They will negotiate with the insurer on your behalf and take necessary steps if your claim gets denied.
There are two types of damages available to personal injury victims – special damages and general damages.
Special damages are losses incurred as a direct result of the accident. They are easy to quantify. Typical examples include medical bills and lost wages.
General damages include physical pain and suffering, mental anguish (stress and anxiety) and any other problems that the victim experiences that diminish their quality of life.
General damages are difficult to quantify. Your personal injury lawyer will come up with a way to put a dollar value on pain and suffering. 
When calculating damages, the professional will consider both current and future costs.
Representing You in Court
Litigation is expensive. The timeline of a personal injury claim can drag out, making the plaintiff feel emotionally drained. An experienced personal injury lawyer knows this and tries to keep disputes out of court.
Most personal injury cases are settled out of the court; however, some cases reach court. If an agreement cannot be reached, your lawyer will file a personal injury lawsuit on your behalf.
During the trial, your attorney will present your case. The professional will present arguments and evidence in your favor, and cross-examine witnesses, and analyze the evidence presented by the opposing party.
When you are involved in a car accident you need to know your rights, at 1-800-HURT911 we are experts in car accidents and accident injury. We can provide the comprehensive services you need. 
At 1-800-HURT911 we will assign you the best attorney for your car accident and schedule you with our preferred doctors at an office that is convenient to you.
We will even assist you with transportation to and from the doctor when necessary.
Frequently Asked Questions