MRIs are used to diagnose a variety of conditions and are especially useful for looking at the brain and spinal cord. If your doctor recommends you get an MRI scan in Atlanta, contact our team at Hurt 911 Injury Centers. We understand that getting an accurate diagnosis is critical when it comes to your short and long-term health. We are committed to helping those in need.
For more on our diagnostic services, give us a call at 855-475-2588. We will take the time to guide you through the process and ensure you get the MRI scan that you need right away.
What Are Some Conditions or Injuries Diagnosed Using an MRI Scan?
Several conditions can be diagnosed using an MRI scan. These can include the following.
Inner Ear Issues
Aneurysm
Brain Tumor
It's best to consult with us about an MRI scan in Atlanta at 855-475-2588 for more on how this applies to your case.
How Do You Prepare for MRI Scan?
Preparation is key when it comes to most medical processes and the same is going to apply to an MRI.
You are going to want to speak to the technician before an MRI in Atlanta. This will help shed light on how you are feeling at the time, the specific medical appliances you're hosting (i.e. pacemaker), and whether or not you have metals on you. You should also cite any medications that are being taken at the moment.
It's best to leave all valuables at home to avoid any issues during the process.
What Should You Expect When Having an MRI Scan?
One of the most important parts of the process will be to understand how it works. You don't want a situation where everything is brand-new and you are unsure of what is going to occur next.
This is one of the biggest problems that come along with this part of the process.
It's best to choose an MRI professional that will go through the process to make sure you are not confused when it happens. This is where we come in as our team will always shed light on the nuances of getting an MRI scan in Atlanta.
During the MRI Scan
The first thing you are going to wonder about is the MRI itself. When you are getting an MRI in Atlanta, you will be assessed to see whether or not you are suitable for one at that moment. This can include your focus, blood pressure, and/or any other issue that might take away from the efficacy of the MRI scan.
Once this is done, you are going to be asked to put on a medical robe. This is done to ensure the MRI is done properly. You will then be asked to enter the room with the machine in place. This is going to have a sliding table where you are going to be asked to lie down.
When lying down on the table, you will have to look straight up at the roof with your hands to the side. Once you are ready, the table will begin to slide back into a tube-like machine where the scan is going to begin.
You are not going to move when this occurs. The scan will begin at this stage and is going to last a few minutes. The technician will come back to the room to get you. This is going to vary depending on the setting but the technician is going to guide you through the process once you are ready to go.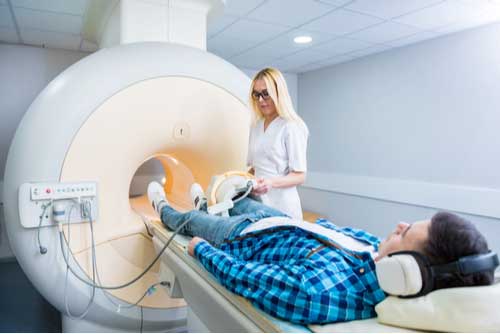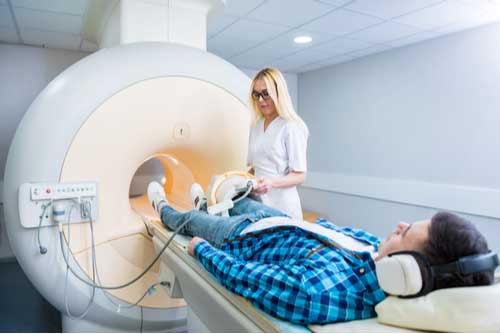 After the MRI Scan
When you have gotten the MRI done, it is time to take a look at what happens after to make sure you are fully healthy. You will not have to stay at the hospital overnight unless there is something seen in the MRI during the initial scan. In almost all cases, this is not going to happen and you are going to be asked to go back home until the reports come.
This is going to ensure you have time to rest. For the average person, you can go right back to what you were doing whether it's work, school, or anything else after an MRI in Atlanta.
These are the steps you are going to have to account for when it is time to get an MRI done. It is important to stay calm and continue to pay attention to what the technician has to say. This will provide peace of mind and you are going to end up seeing the results that you want from the process itself.
If you want to learn more about MRI scans in Atlanta and what other types of diagnostic services we have to offer, take the time to call us at 855-475-2588.
What Are Some Risks Associated with MRI Scans?
There are risks associated with most medical processes and that will include an MRI. The risks of an MRI can include temporary disturbance to a person's hearing and/or a magnetic pull if a person wears metal during the MRI.
It's essential to have a trusted medical professional at the helm of your case to make sure things are handled properly. With our help, you will know the professional will take care of everything and fully personalize the experience down to the last detail.
We take the time to go over these risks with you and will ensure it doesn't play a role in how everything works out. Due to our experience, we will shed light on everything making sure you are fully comfortable with how things unfold.
If you wish to learn more about the risks of an MRI scan, please take the time to reach out to us at 855-475-2588. We will be more than happy to showcase what the process is going to include and how we are the right fit for your medical needs. Our top priority is to make sure you are safe and sound.
For an MRI Scan in Atlanta, Contact Hurt 911 Injury Centers
It's important to have an option where you are treated with respect and can gain access to a trusted medical professional in the city. For those who are looking to get a deeper look into their condition, this is where Hurt 911 Injury Centers come into action as a reliable option.
If you are trying to get an MRI in Atlanta, it's best to reach out to us at 855-475-2588.