Injury treatment is a crucial step you should take after a personal injury accident. If you avoid treatments, you may never fully recover from your wound. Therefore, you have to see an injury doctor or other specialist at some point. Unfortunately, many people treat injury treatment appointments lightly; they don't think that such medical appointments require intentional preparation.
However, they're wrong. It would be best to prepare for medical appointments properly. This way, you can maximize your doctor's medical skills for your health benefits. So, we explain in this article how to correctly prepare for an appointment with specialist doctors at Georgia Injury Centers.
Tips for Preparing for Your Injury Doctor's Appointment
The tips below can help you maximize the opportunity a doctor's appointment grants you:
Be Informed
It isn't only your injury doctor that needs medical information. The first step to a great medical appointment is knowing what to expect when you meet the doctor. Therefore, it'll help to research the injury center. Data you should look for would include:
How many doctors they have
Whether their doctors are general practitioners or specialists
Cost of medical treatments
Treatment history (doctor-patient relationships)
Treatment track records
The nature of your illness and possible treatment
You may be unable to gather all this information yourself. Instead, the doctor you're meeting will be in the best position to answer your questions. Consequently, drawing up a list of questions to ask during the medical appointment is a smart move.
Prepare to Explain Your Medical History
Doctors aren't all-knowing. So, they work with the information patients supply them. Furthermore, they can't always figure out a patient's condition by observation. Similarly, a test may not expose all that's wrong with a patient too. For instance, your doctor may need you to tell them where you feel pain and its severity. This information can help them treat you accurately.
Therefore, while preparing for your doctor's appointment, get ready to recount your medical history. This would include current injuries and past treatments. The relevant data would also include significant surgeries, hospitalizations, illnesses, and allergies.
It would be best also to tell your doctor of any current medications you're taking. If you don't, drug reactions may hurt you. Furthermore, it would help to bring your medical file along in case you forget anything. Don't worry, your injury doctor can't expose your medical history to third parties without your consent.
Dress Properly
Your dressing is also critical for your injury doctor's appointment. So, it would help to consider your body part needing treatment while picking an outfit. Therefore, as you'll pick out a special cloth for job interviews, do so for medical appointments. This detail is essential because you may have to undergo a quick x-ray or scan.
Therefore, inconsiderate clothing may impede such treatment. For example, if you have a knee injury, it'll be wise to wear shorts to the appointment. Similarly, if it's a shoulder injury, you could wear a singlet. Conversely, you can opt for shirts or other tops that allow easy access to your shoulder.
Arrange Your Relevant Documents
There are vital documents you need for your doctor's appointment. For example, you may need to show proof of your appointment. Furthermore, other relevant documents include:
A valid ID card
Insurance card
Medical record files and scans
Progress report from previous doctors treating the same injury
Records of previous surgeries
Pharmacy records
Health insurance information
Any other document you think your doctor may need
You don't know which of these documents aren't vital. So, it'll be best to take them all. Your injury doctor would be in the best position to determine which files aren't relevant. Finally, if you prepare these documents at least one day earlier, you won't forget anyone.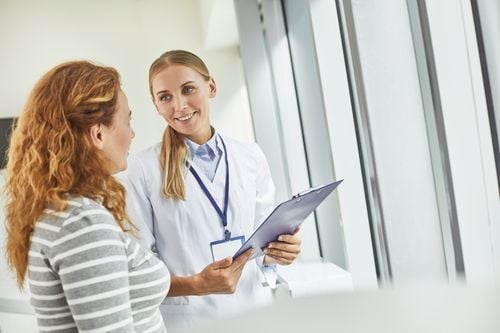 Schedule an Appointment with an Injury Doctor at Georgia Injury Centers!
Have you survived an accident in Georgia? Then, you need the best medical attention available. Therefore, it'll be best to visit Georgia Injury Centers to see our team of doctors. Furthermore, you don't have to come to one physical location. This is because we have injury centers all over Georgia.
Importantly too, you don't have to wait in long queues for your doctor's appointment. We understand that injury treatment can be urgent, so we offer same-day appointments. Therefore, you can call us today, see a doctor today and start your treatment immediately.
In addition, our award-winning team of specialists treats a wide range of injuries. We even offer rides to and from your medical appointments. So, why not call us at 855-475-2588 to schedule that injury doctor's appointment today?