Atlanta Slip and Fall Injury Treatment and Legal Referrals
If you've experienced a slip, trip, or fall in Georgia—where such accidents rank second only to car accidents for injuries—you need prompt medical and legal support. At 1-800-HURT911, our injury doctors are experts in slip and fall injury treatment, including the necessary physical therapy to aid your recovery.
Property owners have a legal duty to maintain safe premises. If you're injured due to negligence, such as a hazardous condition, you may be entitled to compensation.
1-800-HURT911 provides specialized medical care and legal referrals for slip and fall accidents. We connect you with qualified attorneys skilled in navigating the intricacies of slip and fall cases, helping you establish the negligence needed for compensation. Choose 1-800-HURT911 for your slip and fall injury treatment and legal referrals.
Slip Trip and Fall Accident Attorney Atlanta, GA
Slip and fall or trip and fall accidents are second only to car accidents for injuries and even accidental death in the State of Georgia.
If you are injured by a slip and fall, the owner of the property must be negligent in some way for you to receive compensation for your injuries. 
All property owners have a fiduciary right to ensure they provide safe premises for guests. 
If you have been injured by a slip, trip or fall due to a hazard or unreasonable conditions you may be entitled to damages.
To be eligible for compensation, you should prove that the property owner had a duty to maintain reasonably safe conditions.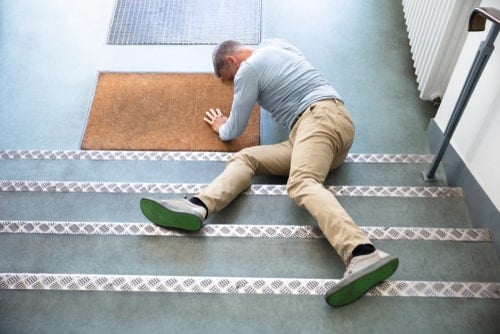 The property owner or their employee knew about a dangerous situation but did nothing to fix it, or the property owner or their employee caused the hazardous condition.
If you have been injured in a slip and fall accident, take steps to preserve evidence. Document the conditions of the area where the accident occurred.
Talk to eyewitnesses and record their statements.
The incident should be reported to the property manager and the local authorities immediately. Remember to collect your copy of the incident report.
What to do After a Slip and Fall
How you react after a slip and fall accident will have a major impact on your ability to recover compensation. You may feel several different emotions. Do not lose your cool. Stay calm and be polite during conversations.
It's essential to get proper medical care after a slip and fall. Your personal injury doctor will help you document your injuries. 
Once the professional receives an accurate diagnosis of your injuries, they will develop an action plan.
The longer you wait to seek treatment, the easier it will be for your insurance company to prove that your injuries are not as severe as thought.
The insurance company or the defendant's legal team can even try to confirm that your injury is not related to the accident.
Suppose you miss appointments or do not follow your doctor's instructions. In that case, the insurance company or the defendant's legal team can use your medical records to prove that you are not seriously injured.
Inspect the Scene and Take Photographs
Inspect the accident scene immediately after a slip and fall. Try to pin down the cause of your slip and fall. 
If you can find the cause of your slip and fall, you can work backwards to determine what the property owner or their employees might have done differently to prevent the accident.
If your case goes to court, you will need evidence to back your claims. They say a picture is worth a thousand words.
Photographs are more demonstrative than other evidence, including documents and can be used as evidence.
Take photographs of the floor and the area around you. Your attorney can use accident scene photographs to reconstruct the events that led to the accident and establish negligence. 
Check whether you can file an accident report. When filing your report, remember to include all the vital information.
Filing a report or bringing the incident to the property owner's notice is one of the most effective ways of preventing the defendant from claiming that you didn't take your accident seriously.
The human brain is not designed to record information accurately and objectively. Your memory can fade quickly. 
You may not remember every factor contributing to your slip and fall a few days after the accident.
To ensure you do not miss important information when narrating the incident to your lawyer, write out a narrative of precisely what happened as soon as you can after the accident. 
Include every information (even the minor ones).
Talk to a Slip and Fall Lawyer in Atlanta
One of the first things you must do after a slip and fall accident is talking to an Atlanta slip and fall attorney. 
An experienced slip and fall lawyer in Atlanta will help you understand the concept of premises liability and make informed decisions.
1800HURT911 can help you find the right slip and fall lawyer in Downtown Atlanta for your needs. 
Our panel comprises top slip and fall attorneys in Downtown Atlanta. We can even connect you to one of our preferred doctors and arrange transportation to and from their office.
If you suffer a slip, fall, or trip you should immediately take actions to preserve or document the conditions or areas where your injury occurred. 
The injury should be reported to property management and local authorities immediately and an incident report generated. 
You should contact 1800HURT911 as quickly as possible to be assigned to an expert attorney to handle your settlement.
At 1800HURT911 we can provide the comprehensive services you need for your slip and fall accident and schedule you with our preferred doctors at an office that is convenient to you.
We will even assist you with transportation to and from the doctor when necessary.
Frequently Asked Questions