Every day, auto accident victims visit our Atlanta treatment center for the first time. oftentimes, they're scared and in a lot of pain. Our goal is to do our best to help them recover from their auto accident injuries. However, we also set out to help improve their chances of receiving the compensation they deserve in a car accident lawsuit.
Damages in a Car Accident Lawsuit Depend Heavily on the Nature and Extent of Your Injuries
When it comes to your car accident lawsuit, how much money you can recover in damages depends on your injuries. The more serious your auto accident injuries, the more money you'll receive.
While most accident victims believe they deserve compensation, they don't realize that they can only be paid for injuries they've actually suffered. If you don't visit an Atlanta treatment center right away, it will be hard for your lawyer to prove your injuries.
Too Many Accident Victims in Atlanta Don't Seek Medical Treatment
As your accident attorney will explain, it's critical that you seek medical treatment immediately after your accident. This is the only way to determine the nature and extent of your injuries.
If you wait too long to seek treatment for your car crash injuries, you're putting your health at risk. Some injuries are not visible to the naked eye. You could've suffered a traumatic brain injury. Or you may have herniated a disk in your back.
It's important that you take an ambulance straight from the accident scene. This way, there's no chance that your injuries will get worse in the days following the crash.
If You Don't Seek Immediate Treatment, It May Be Hard to Prove Damages
Not only do you need to protect your health, but also need to protect your legal rights. Your car accident lawyer will need to prove that you were injured. The best way to do that is with your medical records.
If you don't visit an Atlanta treatment center immediately, it will be hard for your lawyer to do this. In addition, you'll be giving the defendant in your car accident lawsuit the chance to argue that something other than the crash caused your injuries.
Your Auto Accident Lawyer in Atlanta Will Need Your Medical Records to Win Your Case
In order for your car accident lawyer to prove your case, they'll need your medical records. What they'll need to show is that you suffered injuries and that they didn't exist before your crash.
Many times, the insurance adjuster may deny your claim, arguing that your injuries existed before the accident. Or they'll argue that you didn't suffer any injuries at all. If you don't see a doctor at an Atlanta treatment center, this will be very difficult, if not impossible, to prove.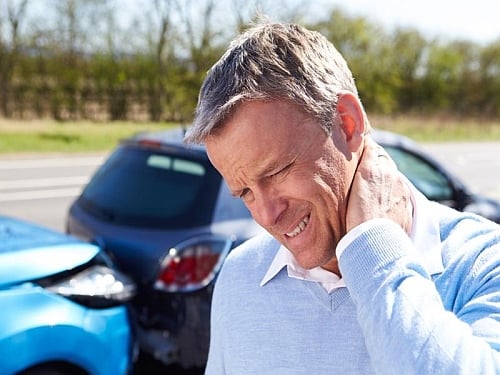 You Shouldn't Wait Too Long to Go to an Atlanta Treatment Center
Some of our clients tell us that they waited days or weeks before seeing a doctor. Perhaps they didn't feel any symptoms until after this time had passed. Or they assumed they were just shaken up from the crash and would feel better in a few days.
While we urge people to visit an Atlanta treatment center immediately for health reasons, you also need to protect your legal rights. Every hour that goes by without treatment weakens your case.
The Defendant Will Argue That Your Car Accident Injuries Were Caused by Something Else
If you wait to receive treatment for your auto accident injuries, the defendant will argue that something other than the crash caused them. Once the accident scene is cleared, there's no way for anyone to prove what happened.
The defendant's lawyer will argue that you got into an accident between the time of the crash and the time you sought treatment. Or they may claim that you were injured prior to the crash and purposely hit their client to try to get damages.
Neither of these things are good for your case. This is why we always recommend that you come to our Atlanta treatment center as soon as possible.
The Practitioners at Our Atlanta Treatment Center Will Run All Diagnostic Tests
Another important thing about our Atlanta treatment center is that our doctors will run all available diagnostic tests. This will help identify any auto accident injuries you may have suffered.
When you arrive at our office, we'll run some or all of the following tests:
X-rays
CT scan
MRI
Neurological examination
Physical examination
The tests you'll need to undergo will depend on how your injuries present. For example, if you are showing signs of a neck injury, they'll run an X-ray. If you are dizzy and feeling nauseous, they may want to do a CT scan to see if you've suffered a brain injury.
Your Doctor Will Make Detailed Notes About Your Injuries, Treatment, and Pain
When you're treated by one of the doctors at our Atlanta treatment center, they will take painstaking notes. They will describe your physical condition. They'll make a note of any tests that were run along with the results.
In addition, your doctor will make notes about any treatment you may need. They'll also include a copy of your initial assessment. This can help your attorney prove your pain and suffering.
For example, if your assessment shows a pain level of 9 on a scale of 10, it shows how dramatic your pain was.
If Need Be, Your Doctors at Our Atlanta Treatment Center Can Testify on Your Behalf
If your case isn't settled out of court, you may need expert witnesses to testify at trial. If your attorney needs them to, the doctors at our Atlanta treatment center may be able to testify on your behalf.
There is also the chance that your doctor is called upon to answer questions about your car accident injuries. Since our team works with accident attorneys all the time, we know what kind of information the judge or jury may need.
Contact Our Atlanta Treatment Center As Soon as Possible After Your Auto Accident
Many accident victims don't realize just how important it is to seek medical treatment as soon as possible after their crash. It's critical that you visit our Atlanta treatment center immediately after your accident. You need to find out how serious your auto accident injuries are sooner rather than later.
Not only do we have talented and experienced doctors at our Atlanta treatment center, but we also work with the best accident lawyers in the area. All you have to do is contact our office and schedule your free, initial assessment.