Atlanta Scooter Injury Treatment and Legal Referrals
If you've experienced a scooter accident in Atlanta, where the risk of electric scooter fatalities is notably high, swift medical and legal action is crucial. At 1-800-HURT911, our injury doctors specialize in scooter injury treatment, guiding you through physical therapy and injury treatment.
E-scooters present unique vulnerabilities, as riders are exposed to extreme risks in motor vehicle accidents. Factors like low visibility and crowded urban streets only compound these risks.
For those impacted by a scooter accident, 1-800-HURT911 provides expert medical care and legal referrals. We'll connect you with attorneys experienced in scooter injury cases, ensuring you're well-represented and informed. Turn to 1-800-HURT911 for comprehensive scooter injury treatment and legal referrals.
Scooter Accident Attorney in Atlanta, GA
Once seen as a solution to quick travel in metropolitan cities across the United States, electric scooters gained popularity quickly, but the popularity has not been without consequences.
Atlanta leads the nation in e-scooter fatalities with three deaths attributed toe-scooter riders.
Like bicycles and motorcycles, e-scooters are particularly vulnerable as riders are fully exposed and risk extreme injury when involved in motor vehicle accidents.
Low visibility, crowded streets, and busy urban streets often lead to e-scooter accidents and even death.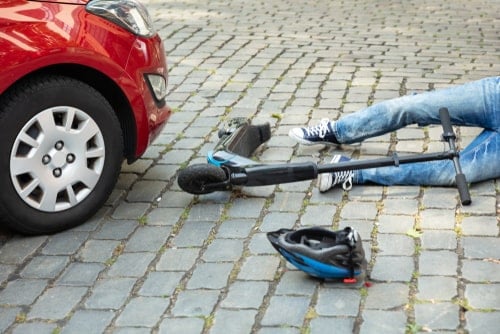 Since the possibility of severe injury is greatly enhanced on scooters, when you are involved in a car accident you need to know your rights.
At 1800HURT911 we will assign an expert to address your e-scooter accident. We can provide the comprehensive services you need and schedule you with our preferred doctors.
We will even assist you with transportation to and from the doctor when necessary.
Frequently Asked Questions