Bike Accident Injury Treatment in Atlanta, GA
If you've suffered from sore muscles or more severe injuries following a bike accident, 1-800-HURT911 is your go-to resource. Our team of injury doctors specializes in evaluating and treating injuries sustained in bike accidents.
We'll connect you with expert injury doctors for the tailored treatment you require, whether you're dealing with sore muscles after a bike accident or more serious issues. In addition, we can match you with qualified attorneys who are experts in bike accident cases.
To make your journey to recovery as smooth as possible, we can also arrange transportation to and from your medical appointments. Choose 1-800-HURT911 for comprehensive bike accident injury treatment and legal assistance.
Bicycle Accident Attorneys in Atlanta, GA
As Metro Atlanta and urban communities encourage green alternatives to transportation, the popularity of bike riding is on the rise in not only metro Atlanta, but in major cities across the United States. 
According to the Atlanta Regional Commission, the number of collisions involving bicycles, motor vehicles, and pedestrians in the twenty-county metro region has risen sharply, from nearly 1,700 in 2006 to more than 2,500 in 2015, representing a 53% increase that continues to grow each year.
Data from the National Transportation Safety Board as of October of last year shows there were 857 bicycle deaths in 2019.
Often bicycle riders are more vulnerable to injury and death as they do not have the protection afforded by cars, thus causing severe injuries and a greater potential for fatal injuries.
When you are involved in a bicycle accident you need to know your rights, at 1-800-HURT911 we have a team of expert bicycle accident lawyers. 
We can provide the comprehensive services you need. 1-800-HURT911 we will assign you the best attorney for your accident and schedule you with our preferred doctors at an office that is convenient to you and we will even assist you with transportation to and from the doctor when necessary.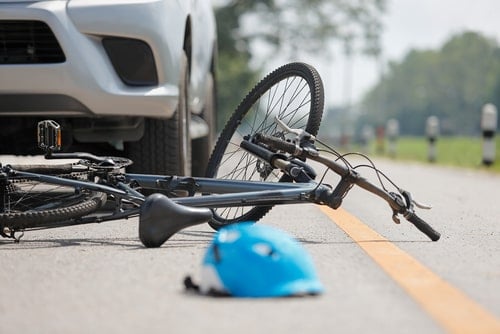 With six major interstate highways, heavily traveled roads and growing urban centers, there is no reason to question why the south is home to more car accidents that any other region. 
In 2019 there were over 1000 fatalities on Georgia's roadways and daily more than 1,720 drivers are involved in Georgia car accidents.
With the high occurrences of traffic accidents across Georgia, if you should find yourself in a car accident, call us for a free consultation so we can help you get the settlement you deserve.
Never speak with the other driver's insurance, because you just may give then an upper hand during negotiations or a potential lawsuit. 
It is important that your damages and injuries are fully assessed by an attorney if you are involved in a car accident.
Car accidents can happen to even the most careful drivers. While there is not much you can do to prevent an accident that's not your fault, you can seek damages.
If you were injured in an accident that wasn't your fault, and are thinking to handle your own personal injury claim, think again!
Frequently Asked Questions