If you have an aching neck or back, you may want to visit a chiropractor. After a few sessions, you'll notice that your pain has subsided. You'll also feel looser and won't be suffering from as much inflammation as you have of late. However, in order to get the best chiropractic treatment, you need to know how to find the right chiropractor for you in Atlanta. One way you can do this is by going online and performing a search for, "the best chiropractic treatment near me." Our firm should appear at the top of your search results. 
While searching for a chiropractor online makes sense, there are a few things you'll want to take into consideration when you make your final decision. Here, we'll discuss some of the things you should look in order to find the right chiropractor for you. We will also explain how you can find out what other patients have to say about a chiropractic office in Atlanta. 
If you're in pain and need to find the right chiropractor in Atlanta, give us a call. We can schedule you to come in so we can conduct your initial assessment and find out what the best course of treatment for you may be. 
The Right Chiropractor Should Be Able to Treat Your Specific Injuries
Depending on the type of injuries you're suffering from, you may benefit from chiropractic care. If you've never seen a chiropractor before, you may have no idea how beneficial they can be. Most of our patients feel relief after just one visit. They continue with treatment because they want to maintain a pain-free existence. 
If you aren't sure how to find the right chiropractor or even if chiropractic care will help you, you can always come in and meet with one of our skilled chiropractors in Atlanta. Our team has decades of combined experience helping people who are in pain and discomfort. There's a good chance that chiropractic care will help relieve your pain, inflammation, and discomfort.
If you've suffered a neck or back injury, then it's a good idea to search for the "best chiropractic treatment near me." You can always visit our website and look at the various types of services we offer in order to find the right chiropractor. If you think it may be helpful for your injuries, then give us a call and we can schedule your initial appointment.
Read Client Reviews Before You Make a Final Decision
We always tell our clients that they should read some online reviews before they choose the right chiropractor. It's one thing for us to promise you that we can help fix your issues. It's quite another to see what other clients have had to say about us.
The same is true for any chiropractor. It's hard to run a business these days without a website. Not only does it offer client information about the services you offer, but it also gives them a chance to read about your treatment center. We would much rather have someone come to us after they've done their homework than because they picked a random Atlanta chiropractic treatment center online. Of course, we are more than happy to treat anybody who comes our way. Our goal is to help all our patients with whatever issues they're dealing with.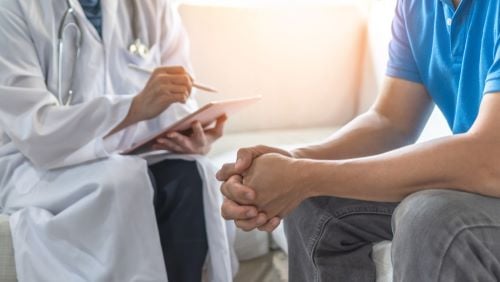 Don't Rely Strictly on the Opinions of Friends and Family
As important as the opinions of your friend and family may be when looking for the right chiropractor, you want to be careful relying on them. What works for one person may not work for you. The people who refer you to some other chiropractor in Atlanta may have been treated there years ago. The entire staff may have turned over by now. 
The same is true of people who send you to the person who treated them for an injury completely different from yours. If you're dealing with a back injury that was caused in a car accident, that's a lot different from someone who hurt their back picking up a heavy box. The way you suffer your injury is important. We have practitioners who specialize in auto accident injuries. They can help you in ways another chiropractor cannot.
Go Online and Search for the "Best Chiropractic Treatment Near Me"
As mentioned earlier, one way to find the right chiropractor is to do an online search for "the best chiropractic treatment near me." You'll probably end up with thousands or even millions of hits. Rather than pick one at random, you need to look carefully at the top three or five that show up.
To find the right chiropractor, set aside a good hour or so to review the different chiropractic treatment centers near you. You first want to rule out any that are too far from your home. If you're already in pain, you don't want to spend an hour in the car each way to and from your chiropractor. The same is true when it comes to experience. The last thing you want to do is visit a brand-new chiropractor who has no expertise treating the issues that are plaguing you.
Come in for Your Initial Assessment As Soon as Possible
We suggest that once you find the right chiropractor, you visit their office as soon as possible after your injury. If you've been in a motor vehicle accident, let us know when you set up the appointment. This will give us an idea of what kind of impact caused your injuries. The same is true if you were hurt in a slip and fall or construction accident. The way you got hurt can sometimes be as important as the type of injury you've suffered. 
If you found us and the right chiropractor for you after searching for "the best chiropractic treatment in Atlanta", then you should have our contact information. If not, you can always visit our website and request one of our agents to contact you directly. 
The goal is to get you in so we can do your initial assessment. This will give us an idea of how serious your injuries are. We can also go over the various treatment options we offer. In order to design a care plan that works for you with the right chiropractor, we need to know exactly what kind of treatment you're seeking.