There are certain things you need to do in the moments after your car crash. For example, you have to call 911. This will ensure that a team of police officers will come out to the scene and do a thorough investigation. They will also arrange for an ambulance to come and transport you and any other victims to the hospital. Finally, they'll put their findings in their final police report. This report will be useful for both your accident attorney and your Athens injury center. Our team can review the report to see how your injuries occurred. This can help us design the perfect treatment plan for you.
Whether your car crash injuries were minor or quite serious, you'll benefit from a visit to our Athens injury center. This gives you a chance to meet with an expert practitioner who can figure out what your injuries are and how best to treat them. Your insurance (or the other driver's insurance) should cover any care you may need. If you have trouble getting them to cover your care, let us know and we can reach out to them. You deserve the medical care that will help you make a full recovery. If the defendant's insurance is supposed to cover your medical care and they refuse to do so, your attorney can always get involved.
Do Not Refuse Medical Treatment – Go to the Hospital Right Away
We often meet with patients who were involved in a car crash but refused to go to the hospital. By the time we see them, it has usually been several days or even weeks after their accident. When we ask them why they refused to get medical care, they say that they didn't feel like waiting for the cops to come to the scene. Or they say they made an agreement with the other driver to switch insurance information and be on your way. Neither of these are good enough reasons to not call the cops.
Not only will the cops ensure that you get to the emergency room, but they'll also take notes about how the car crash occurred. For example, they'll make a note about how fast the other driver was going when they crashed into your vehicle. This can help our practitioners determine how bad your injuries may be. Had you gone to the hospital, this sort of information would have already been established. It's never a good idea to refuse to get your auto accident injuries checked out. That only makes it harder for the doctors at our Athens injury center to create a comprehensive treatment plan.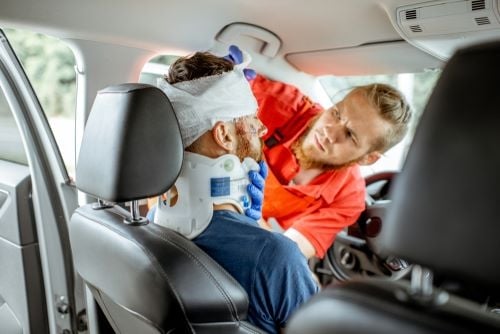 Once Your Injuries are Examined, You May Need Surgery
Depending on the type of car crash injuries you suffered, you may need surgery. If this is the case, you'll probably need physical therapy after the fact. If the surgery was on your neck or back, you need to take it easy in the days after your surgery. Our practitioners know how important it is that they create a care plan that takes this into account. If you suffered a knee injury and it was operated on, you may need long-term care afterwards. This is what our Athens injury center does. We offer long-term and short-term care that can help accident victims recover from their car crash injuries.
The sort of after-care you require will depend on the type of auto accident injuries you sustained. Some injuries are more serious than others. We would have to be more careful designing a care plan for somebody with a neck injury. However, if all you suffered was whiplash, we would be able to offer chiropractic care and have you feeling better in a week or two. It's not that easy for other injuries.
You Should Visit an Athens Injury Center Within Days of Being Released from the Hospital
We suggest that you contact our Athens injury center within days of being released from the hospital. Usually what will happen is your doctor or surgeon will tell you what kind of treatment you need in the weeks and months following your surgery. They'll recommend that you visit an Athens injury center after an appropriate amount of time has passed. They will also give you specific instructions on how to care for your injuries post-surgery.
When we first meet with you, our team will assess your injuries. They'll review any tests the emergency room doctors have done. They will also look to see what notes they put into your medical records. This can help drive our care plan. Our goal is to treat your car crash injuries and help you reach a point where your pain and discomfort are tolerable. This is the only way you'll be able to return to work and a normal life. As long as you participate in your care and follow our instructions, you should be back to yourself in no time.
Our Practitioners Can Design a Care Plan Specific to Your Injuries and Medical Condition
One of the benefits of visiting an Athens injury center is that we offer a variety of treatments for your auto accident injuries. If you're one of the lucky ones, you'll walk away from the crash with no injuries at all. However, this is rare. Most accident victims usually experience some sort of minor injury. You could also have suffered very serious injuries – the kind that require multiple surgeries. By the time we meet with a new client, they have already undergone any immediate medical treatment they need. Our goal is to offer the follow-up care accident victims need so they can get back to their normal lives.
We recommend that you contact one of our Athens injury centers as soon as possible after your car crash. Our expert practitioners offer a variety of services that can help you recover from your auto accident injuries. For example, we offer chiropractic services for people with a neck or back injury. We also have therapists on site who can offer physical, occupational, and other rehabilitative therapies. It all depends on your overall physical condition and specific auto accident injuries.
Call today so we can schedule your initial appointment. You can come in and one of our practitioners will do their initial assessment and let you know what kind of treatment plan we have in mind.