If you've ever been in a car accident, then you know how scary they can be. Not only are you worried about your vehicle, but you probably suffered some pretty serious injuries too. Thankfully, most of the auto accident cases we see only involve minor injuries. You may sprain an ankle or break an arm or leg. These injuries are rather easy to treat and, with time, you'll make a full recovery. There are other injuries, however, that the practitioners at our Atlanta injury center consider much more serious. You could have suffered a neck or back injury. You may require surgery and long-term physical therapy. This is where our expert practitioners enter the picture.
Here, we will discuss the more common injuries associated with an auto accident. We will also explain how our Atlanta injury center can help with these injuries. If you were involved in a car crash recently, it's a good idea to come into our Atlanta injury center and get checked out. You could have internal injuries that were not diagnosed. Or, if you didn't go to the emergency room after your auto accident, you may have no idea what's wrong with you. We will run the necessary diagnostic tests to figure this out.
All you have to do is call our Atlanta injury center and schedule a date and time for your initial assessment.
It All Depends on How Serious the Crash Was
Not surprisingly, the more serious your auto accident is, the more serious your injuries will be. We have found that people involved in motorcycle and truck accidents tend to suffer the worst injuries. For motorcycle riders, there is nothing to protect them from the impact of the other vehicle. All that is standing between them, and the rest of the road is a plastic helmet. For truck accident victims, it comes down to the sheer size of the other vehicle. Very few people can withstand the impact of a tractor trailer or box truck. Thankfully, our seasoned practitioners use the latest techniques to treat these serious injuries. We'll do our best to get you back to your normal self as quickly as possible.
Our Atlanta Injury Centers See a Lot of Patients with Broken Bones and Bruises
A lot of auto accident victims end up with broken bones. Or you may have sprained your wrist or ankle. These injuries are usually healed with minor treatment. For example, if you break your arm or leg, it will be painful. However, the doctor will be able to reset your bone and you could be fully healed in a matter of weeks or months. The same is true for a wrist or ankle injury. These injuries can usually be treated without the need for surgery. You could be back on your feet in no time.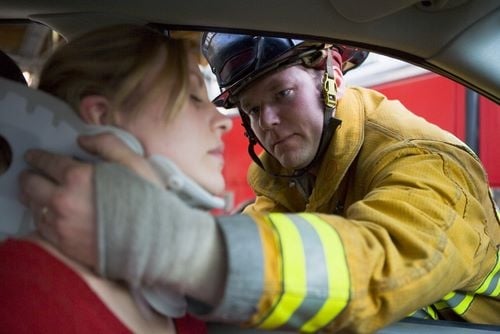 Some of Our Clients Suffered a Traumatic Brain Injury in Their Accident
If you've been involved in an auto accident or motorcycle accident, you could suffer a traumatic brain injury. This happens when you suffer a serious blow to the head. This could happen in any number of ways. The scary thing about a traumatic brain injury is that you may not know you have it. This is why we suggest you come into our Atlanta injury center and get the necessary diagnostic tests done. This will help us determine the nature and extent of your auto accident injuries.
You May Have Injured Your Neck or Back in Your Auto Accident
Some of the most common injuries we treat are back and neck injuries. Many auto accident victims suffer these injuries, even in a minor crash. It doesn't take much for a person's disks to be out of whack. You may have herniated or slipped discs. It could be bad enough that you need surgery. The same is true for neck injuries. These injuries are even more serious because even the treatment can be dangerous. Nobody wants to hear that they need neck surgery. And it's even worse if you need surgery to repair a spinal cord injury. Our practitioners have access to the state-of-the-art equipment and techniques. We will do our best to help you recover at a reasonable rate. There is no need to rush your treatment when it involves these types of injuries.
There Are Times Our Atlanta Injury Center Treats Knee Injuries as Well
While they are not as common as some of the other injuries discussed here, some accident victims damage their knee in their crash. Knee injuries can also be tricky. The extent of your treatment and rehabilitation will come down to a few different things. First, if you are older, it may take a lot longer to heal. You may never gain full use of your knee again. Your physical condition can also impact your treatment. If you are in great physical shape, you'll probably recover in no time. It will take longer if you're not in prime physical shape.
Regardless of the Type of Injuries, Our Atlanta Injury Center Can Help
If you've been injured in a car accident, you need to be seen by a doctor. Too many of our clients tell us that they refused medical care at the accident scene. They thought they were okay until the next day or even a week later. Once they realize they've been hurt, they aren't sure what to do. Should you go to the emergency room when you've had the injuries for days? Is it better to visit an Atlanta injury center first? It all depends on the nature and extent of your injuries.
What we do is offer our clients a variety of treatment options. If you hurt your neck or back, you may benefit from our chiropractic treatment. Perhaps you hurt your knee or shoulder and need physical therapy. What we do is conduct a thorough initial assessment. This gives us an idea of your injuries. We will also review your medical records to see what the treating doctor at the emergency room found. Once we have a concrete idea of the extent of your injuries, we'll have a much better idea of how to plan your care.
All you have to do is contact our Atlanta injury center and schedule a time to come in. We can do your assessment and put you on the path to recovery.