Car accidents are stressful enough without making mistakes that could cost you money or legal rights down the road. Have you ever wondered what you should and shouldn't do after a fender bender? Here are the top car accident mistakes people make that you'll want to avoid.
Following these tips will help you properly handle this stressful situation and come out unscathed on the other side. Take a deep breath and read on.
Our team at Hurt 911 can help you get the medical care and legal help you need after an accident in Atlanta, Athens, or elsewhere in Georgia. Contact us today for a free consultation.
Leaving the Scene
When an accident happens, it's only natural to want to get out of there as quickly as possible. But doing so will only make the situation much worse. Remaining at the scene shows you have nothing to hide and are willing to take responsibility. It allows you to exchange information with other parties and talk to the police.
Prematurely fleeing could lead to legal trouble and severely damage any insurance claims. Stick around, even if the other driver wants to handle it privately. You never know what might come of that agreement down the road. It's always best to follow proper procedures in these cases.
Admitting Fault
Avoid admitting fault or blame even if you think you contributed partly to the accident. Your words could come back to haunt you legally and financially. When discussing the situation with the police, insurance adjusters, and other parties, stick to the facts of what happened.
Don't speculate or make assumptions. Your words could come back to haunt you legally and financially. When talking to the police, insurance companies, and other parties, stick to the facts about what happened. Don't say things like:
"I'm sorry, it was my fault."
"I should have been paying closer attention."
"I feel so bad about causing this."
Failing to Gather Information
While waiting for the police and paramedics to arrive, gather as much information as possible from the other driver(s) and any witnesses. Get their name, contact info, insurance details, license plate number, and vehicle information.
Take photos of the vehicles involved, the surrounding area, and any visible injuries. Get the police officer's name and badge number if you have follow-up questions about the crash report. The more info you have, the better.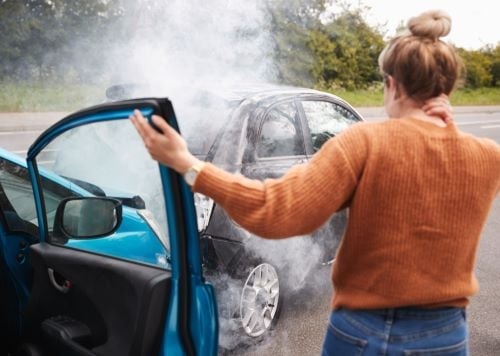 Not Getting Medical Assistance
After a car accident, getting checked out by a doctor as soon as possible is critical. Not seeking medical care is unsafe and can jeopardize your ability to recover damages. Visiting your doctor ensures your injuries are properly assessed and treated.
The records from your visit indicate expenses incurred from the accident. Failing to get checked out suggests your injuries are minor or nonexistent, making it difficult to pursue a claim. Seeking medical attention also protects you legally.
Not Reporting the Accident
Not reporting the accident to the proper authorities immediately is one of the biggest mistakes you can make. As soon as it's safe to do so, call 911 to get medical help for anyone injured and call the police to get a police report for your insurance company.
Your insurance provider must know about the collision quickly to start an investigation and handle claims properly. Notifying them promptly could jeopardize your ability to receive compensation for injuries, vehicle repairs, or other damages. The longer you wait, the harder it may be to prove that the accident wasn't your fault.
Quick Settlements
Quick settlements may seem appealing after an accident, but accepting the first offer from an insurance company is rarely in your best interest. Insurance companies want to pay out as little as possible, so initial offers usually don't account for long-term costs.
Your injuries could require ongoing treatment, missed work, or cause lasting issues—all of which deserve compensation. Speaking with an Atlanta car accident lawyer helps determine what your claim is worth. While it may take more time, fighting for fair payment will benefit you financially and physically in the long run.
Call Our Atlanta Car Accident Lawyers Today!
Once the dust has settled from your accident, call us immediately at 855-475-2588. At HURT 911, our chiropractors and physical therapists are here to help you recover.
Our team of accomplished personal injury attorneys have decades of experience getting clients the maximum compensation after a crash. Whether it's a fender bender or a catastrophic collision, we'll stand up for your rights and hold the negligent parties accountable.
Don't go through this difficult time alone. We'll handle the insurance companies and legal paperwork so you can focus on recovering. The sooner we get involved, the stronger your case will be. Call now for your free consultation—we don't get paid unless you do!