Some people swear by chiropractic care. Other people are afraid to go. A lot of people believe that once you go to a chiropractor once, you'll have to go for the rest of your life. Not surprisingly, this is nothing but a myth. Why anybody would think that you'd be physically dependent on chiropractic care is not clear to our team here. We offer Atlanta chiropractic care that can help people suffering from all sorts of injuries. One such injury that we're able to treat is a herniated disc.
A herniated disc happens when the discs in your back protrude further than they're supposed to. They eventually hit a nerve and it causes excruciating pain. When this happens, you know it's time to go online and search for "treatment of auto accident injuries near me." Even if your herniated disc isn't the result of an accident, we can still help.
Here, we'll discuss the various benefits of chiropractic care for a herniated disc. Our team of practitioners, including chiropractors, are here to help. All you have to do is call our Atlanta chiropractic care center and schedule your first appointment.
What Are the Major Causes of a Herniated Disc?
When our patients ask us what the main causes of a herniated disc are, we try to explain that it can happen in a variety of ways. Most of these injuries are caused by some sort of trauma, such as a motor vehicle accident. In fact, a lot of our patients come to us within hours or days of being injured in a car crash. However, there are other things that can cause a herniated disc.
Some of the more common causes of a herniated disc include the following:
Sports injuries
Repetitive actions such as bending, standing, lifting, or driving
Car accidents
Improper lifting
Of course, there are other ways you can hurt your back. A lot of people suffer from herniated discs and don't even know it. You can hurt it doing everyday activities. It isn't until the disc hits a nerve that you realize you're in trouble. The pain will be excruciating. You'll do anything to relieve the pain. Thankfully, all you need is some Atlanta chiropractic care.
How Do You Know You've Suffered a Herniated Disc?
There are many symptoms of a herniated disc. As mentioned above, you may not even know you've injured your back. You could have a disc issue for months before it causes you any trouble. There are certain signs and symptoms of a herniated disc. If you notice any of these, then it's time to search for "treatment of auto accident injuries near me." Our Georgia injury treatment center will appear in your search results. You can call and we'll do our best to get you into treatment right away.
Some of the common symptoms of a herniated disc include:
Back pain
Pain in your neck
Arm and leg pain
Limited range of motion
Muscle spasms
If you feel any or all of these symptoms, it's time to get some help. Call our treatment center and we'll have you come in for an assessment. Once we diagnose your injury, we'll chart a course of treatment for you. As long as you comply with our recommendations, you should feel relief sooner rather than later.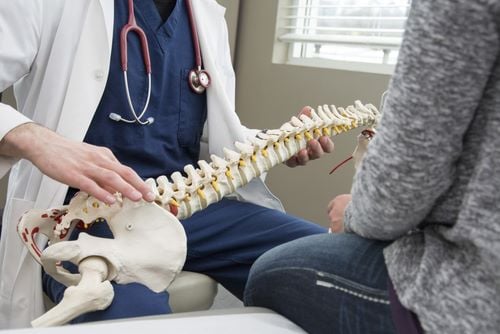 How Does Chiropractic Care Help Treat Your Herniated Disc?
While some people need surgery to fix their herniated or bulging discs, a lot of our patients find relief with chiropractic care. Our practitioners offer non-surgical treatment. It's non-invasive as well. Some of the practices our team offer for people suffering from herniated discs include:
Spinal manipulation
Decompression
Chiropractic adjustments
Most of our patients feel relief after their first session. Of course, it takes time to truly fix the problem. Your chiropractor will outline the best course of treatment for you. If there's a therapy you aren't comfortable with, just let your practitioner know. They won't force you to do anything you don't want to do. Just keep in mind- if you refuse certain therapies, it may take longer to feel relief. You may also find that you can't reach optimal relief with a limited number of treatments.
There Are Many Benefits from Chiropractic Care for Herniated Discs
If people had any idea how beneficial chiropractic care is for back issues, they'd probably try it right away. Sadly, a lot of people are suspicious of chiropractors for some reason. They read articles online that make it seem like chiropractors require you to undergo treatment for years. Other people assume they have to come into the office 5-6 days a week.
Until your chiropractor has a chance to see how serious your injuries are, they can't tell you how long treatment will last. It really depends on how bad your herniated disc is. It also depends on what you're comfortable with. If you don't want to undergo treatment for more than a few weeks, that's okay. Just let your practitioner know from the start what you expect and what you hope to achieve under their care.
Some of the benefits of chiropractic care for a herniated disc include the following:
Drug-free pain relief
Non-invasive
Safe
Inexpensive
No surgery involved
Trigger your body's natural healing processes
Reduces inflammation
Increase your overall health and vitality
When one considers the price of chiropractic care against its benefits, it makes sense to at least give it a try. The worst that can happen is that you feel better for a few days. Hopefully, you'll appreciate the pain relief our Atlanta chiropractic care offers and continue treatment. The only way to know for sure if chiropractic care is for you is to call and make your first appointment.
Contact Our Atlanta Chiropractic Care Center Today and Get Started
If you suspect that you have a herniated disc as a result of a car crash, you should start searching for the best "treatment of auto accident injuries near me." Our Atlanta chiropractic care center can do the necessary tests to diagnose the problem. Once we confirm that you have a herniated disc, we'll develop a targeted treatment plan that will offer you much-needed relief.
The best thing you can do is call our office and schedule your initial appointment. One of our chiropractors will do an initial assessment to see how bad your injuries are. Once we have a chance to do that, we'll outline your course of treatment and get you started on the path to relief and a pain-free life.