It's only natural to wonder whether it's safe to see an Atlanta chiropractor after your motor vehicle accident. While chiropractic treatment is beneficial for many accident victims, there's no harm in doing your homework before you arrive at an Atlanta treatment center.
Here, we'll discuss whether chiropractic care is suitable for people who've been hurt in a car accident. We'll also explain whether it's a good idea for you to get chiropractic care in Atlanta.
You Need to Make Sure You See a Licensed and Trained Atlanta Chiropractor
As with any type of medical treatment, you owe it to yourself to make sure it's safe before you consider it. Part of this is checking to make sure the Atlanta chiropractor you plan on seeing is properly trained and licensed.
You should never visit any Atlanta treatment center without first confirming that they are in good standing. All it takes is the wrong person attempting an adjustment on your neck and back and you could be left in worse shape than when you arrived!
Go Online and Confirm That the Chiropractors at Our Atlanta Treatment Center Are Licensed
The good news is that you can trust that our Atlanta treatment center is properly licensed. Our Atlanta chiropractors have decades of combined experience and all the required training.
You know that when you come into our office, our practitioners have your health and safety in mind. We would never suggest or administer any sort of treatment that we don't feel is in your best interest.
Review the Atlanta Treatment Center's Website and Read Client Reviews
It's great when a company promises to give you superb chiropractic treatment. But how do you know if a chiropractic office will live up to that promise? One thing you can do is visit the Atlanta treatment center's website and look for patient reviews.
It's also a good idea to see what is involved with chiropractic treatment. Some patients get so worked up about what might happen that they don't experience the maximum benefit of treatment.
Our Atlanta chiropractors have found that it's better to at least have an idea of what treatment you'll undergo. Of course, when you first visit our Atlanta treatment center, we'll explain the kind of treatment you'll undergo as well as any specific procedures you're scheduled to receive.
Can an Atlanta Chiropractor Help Relieve Your Pain After the Crash?
Hundreds of accident victims visit our Atlanta treatment center every year. Some come to see one of our Atlanta chiropractors after surgery. Others are simply in pain and hope that chiropractic care will help them.
Regardless of what type of injuries you sustained in your accident, you are welcome to come into the office and meet with an Atlanta chiropractor. They can review your medical records and let you know if chiropractic care is an option for you.
What Auto Accident Injuries Can Be Treated With Chiropractic Care?
Many of our clients are surprised to learn how many injuries can be treated with chiropractic care. Even a simple adjustment can make you feel much better. This is especially true if you're suffering severe pain as a result of the crash.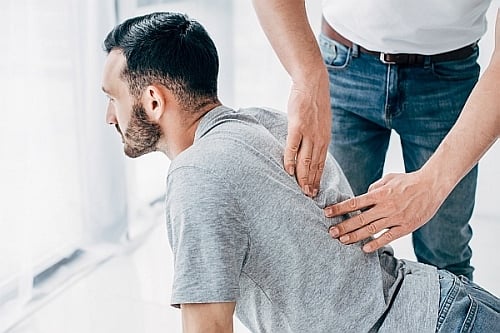 Some of the more common auto accident injuries our Atlanta chiropractors treat include the following:
Neck injuries
Back pain
Herniated disks
Shoulder injuries
What will happen is one of our Atlanta chiropractors will arrange for you to undergo diagnostic tests. This will allow them to determine the nature and extent of your injuries.
If they think you would benefit from chiropractic care, they will discuss this option with you directly.
Should Certain People Avoid Seeing an Atlanta Chiropractor?
Of course, chiropractic care is not an option for everybody. People with certain types of medical conditions should not consider seeing an Atlanta chiropractor. However, that doesn't mean you won't benefit from other treatments available at our Atlanta treatment center.
People with the following conditions should avoid chiropractic care unless it is specifically recommended to them:
Prior strokes
Spinal cancer
Serious osteoporosis
Bone disorders
Numbness or tingling in your arms and legs
When you first come to our Atlanta treatment center, one of our Atlanta chiropractors will meet with you personally. They'll discuss the various treatments available and explain the benefits and risks of each.
Once you decide that you want to move forward with chiropractic care, your practitioners will craft a care plan specifically designed with your auto injuries in mind.
Are There Any Side Effects to Chiropractic Treatment?
As with any other sort of treatment, there are certain side effects from chiropractic care. Our Atlanta chiropractors will do their best to prevent any of these side effects from taking place. However, it is sometimes unavoidable.
Some of the more common side effects include the following:
Most of these symptoms are short-lived. Over time, you will stop experiencing these side effects as well. In fact, many of our clients have no negative side effects after seeing their Atlanta chiropractor.
What Will Your Atlanta Chiropractor Do if You Aren't Responding to Treatment?
Depending on your specific injuries and physical health, you may not respond to chiropractic care. If that's the case, let your Atlanta chiropractor know. They can try different therapies to see if they work better.
If you aren't experiencing the benefits of chiropractic care after a few weeks, you may need to consider alternate treatments.
Keep in mind, our Atlanta treatment center also offers physiotherapy. That is often a safe alternative for clients who prefer not to proceed with further chiropractic care.
Contact Our Atlanta Treatment Center if You Have Any Questions or Concerns
It makes perfect sense to want to talk to our Atlanta treatment center before you begin treatment. That's something you should do before you meet with any Atlanta chiropractor. Your priority has to be your health. If anything is going to jeopardize that, you need to know ahead of time.
We suggest you contact our Atlanta treatment center at (855) 475-2588 today and schedule your initial assessment. Once you meet with one of our Atlanta chiropractors, they'll have a better idea if chiropractic treatment is ideal for your auto accident injuries.