A truck accident often leaves you with painful and even life-threatening injuries. Most truck crash victims need surgery, physical therapy, and chiropractic care. We'll discuss the various injuries you may suffer during your tractor trailer crash. We will also discuss what kind of treatments our Athens injury center offers to help you make a full recovery.
Before You Receive Any Medical Care, We Must Evaluate Your Injuries
To learn what kind of medical treatment you'll need, we will first perform a series of diagnostic tests, such as:
X-rays

CT scans

MRI

Ultrasounds

Neurological examination

Physical examination
Once the results of these tests are available, your doctors have a much better idea of what kind of treatment you need.
Also, these tests will tell us what your overall medical condition is. For example, they may reveal that you're suffering from arthritis, osteoporosis, or spinal stenosis. These conditions will impact your care plan and response to treatment. 
Common Truck Accident Injuries We Treat
The type of medical care you'll receive will depend on the nature and extent of your truck accident injuries. Some of the more common injuries people experience in tractor trailer accidents include:
Broken bones and fractures

Spinal cord injury

Soft tissue injuries

Nerve damage

Knee injuries

Back and neck injuries

Burn injuries
These are the more serious types of injuries truck accident victims suffer. You may also experience minor injuries such as whiplash, sprains, strains, and contusions. Thankfully, these injuries can often be treated on an outpatient basis and rarely require surgery or long-term medical treatment.
Medical Treatment Options for Truck Crash Victims
Depending on the type of injury you sustain, you may require several types of medical procedures and treatments.
Some of the more common procedures include:
Casting or splints

Chiropractic care

Pain management

Physical therapy

Occupational therapy

Orthopedic surgery

Brain surgery

Skin grafts for burns

Plastic or reconstructive surgery

Wound care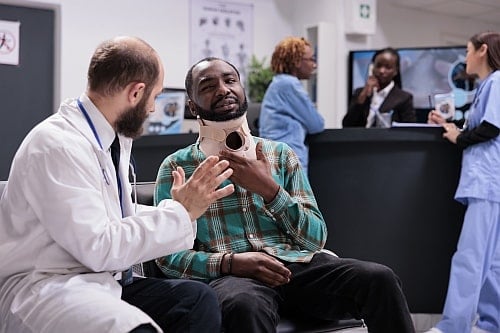 Certain Injuries Require Surgery 
Unfortunately, some types of injuries sustained in a truck accident require surgery. This will take place before you can consider physical therapy or chiropractic care.
Brain, neck, and head injuries – These injuries may require surgery. There is also a strong likelihood that you will need physical therapy afterward.
Burn injuries – Anybody who suffers 2

nd

or 3

rd

-degree burns will likely need skin grafts and reconstructive surgery. 

Soft tissue injuries – If you're in a tractor trailer crash, you may need surgery to fix an injury to a tendon, ligament, or muscle. 
Broken bones and fractures – You may need orthopedic surgery for a broken bone.
Spinal cord injuries – Often, spinal cord injuries result in partial or total paralysis. However, there is a chance that surgery can help an accident victim avoid this. 
Disfigurement and amputation – Sadly, given the nature of truck accidents, you may suffer facial disfigurement or require amputation. Both types of injuries require surgery, and oftentimes, they require multiple surgeries. 
Regardless of the type of surgery you undergo, there is a strong likelihood that you'll benefit from physical therapy and chiropractic care during the recovery phase.
We Offer Physical Therapy and Chiropractic Care
Our treatment center in Athens offers a variety of therapeutic services, including physical therapy and chiropractic care. 
Many truck accident injuries respond well to physical therapy (PT). For example, if you suffer a back or knee injury, your doctor may refer you to a physical therapist right after surgery.
Neck and back injuries, as well as nerve damage, benefit from chiropractic care, as well. After just a few sessions, many accident victims have regained much of their range of motion. They also report reduced pain and discomfort.
Contact Our Athens Injury Center as Soon as Possible after Your Accident!
When you've been injured in a truck accident, it can be terrifying to wonder if you'll ever get better. Many people suffer from life-changing or even life-threatening truck accident injuries. The good news is that the experts at our Athens injury center have the skills and tools to help you make a full recovery.
When you first come to our Hurt 911 injury center, you will undergo a complete initial assessment. This gives us a chance to determine the nature and extent of your truck accident injuries. Then, you'll meet with one of our practitioners, who will devise a care plan catered to your recovery.
All you have to do is call us at 855-475-2588 today and schedule your free, initial assessment.